Stays that include the following days require a night minimum: Fri, Sat
Sorry, but the dates you selected require a night minimum stay. Please adjust your search and try again.
Top 5 Advantages of Staying on the South Strand
Courtney Martin | 31 Mar 2017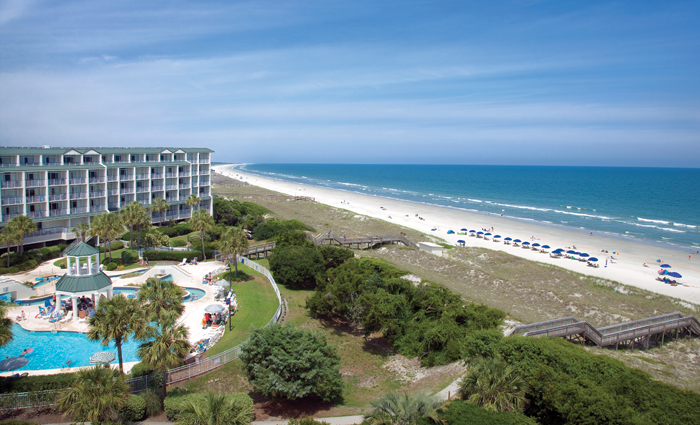 What we refer to as the Grand Strand includes dozens of miles along the East Coast of South Carolina, jutting inward a few miles throughout the region. This area is filled with thrilling attractions, superb dining establishments, and plenty of golf courses for impeccable play. Although the hustle and bustle of downtown Myrtle Beach may be perfect for some visitors, there's nothing like the beauty and tranquility of our Myrtle Beach vacation rentals along the South Strand.
Also known as the Hammock Coast, the Southern portion of the Grand Strand includes the areas of Murrells Inlet, Pawleys Island, and Georgetown, which can be found just miles south of Myrtle Beach. There are countless advantages of selecting this area as your vacation destination, and here are our Top 5:
Fewer Crowds
Sometimes you want to be in the middle of all of the chaos and action, but at other times, not so much. The South Strand gives you the perfect combination of privacy and relaxation, with less crowded beaches. The family-friendly atmosphere of Pawleys Island and Murrells Inlet are perfect for groups looking for an easygoing and laidback trip. If you're longing for quiet days on the beach, our South Strand vacation rentals are the perfect option.
Less Traffic
Nothing is more frustrating than wasting most of your precious vacation time in traffic. While certain areas of Myrtle Beach may create nothing but headaches when it comes to navigating the area, the Litchfield /Pawleys Island / Murrells Inlet areas rely on one main highway (HWY 17) and a myriad of smaller, easy-to-access roads and streets. You'll find it much quicker simpler to get around the South Strand.
Sightseeing and Natural Beauty
Tired of looking at paved parking lots and hotel construction zones? When you stay in one of our South end vacation rentals, you'll be surrounded by the natural beauty of the coast. Check out the MarshWalk, where you can gaze out over the inlets, as the sun rises over the horizon. Or make the extremely short trip to Huntington Beach State Park or Brookgreen Gardens to take in the sights and sounds of native coastal South Carolina animals, plants, and majestic sceneries. Spend a day roaming the castle ground at Atalaya, or go on a bike ride along the nature trails that pepper the coast. You won't be disappointed in the natural beauty of the South Strand.
Seafood
While Myrtle Beach restaurants may boast of their seafood selections, only Murrells Inlet can call itself the Seafood Capital of South Carolina. You'll find a seemingly infinite amount of seafood establishments in this area, but you won't find too many chain stores. These home-grown restaurants offer up fresh, local catches straight off the boat, making your dinner the freshest, most authentic coastal South Carolina cuisine you can get anywhere in the state. The seafood in Pawleys Island and Murrells Inlet is some of the best in the world. Try it for yourself during your next vacation rental!
Day Trips to Charleston
When you stay further south of Myrtle Beach, you are even closer to one of South Carolina's other great coastal destinations, Charleston! Make the most of your South Strand vacation rental by embarking on a day trip to this historic city, where you can visit a host of historical landmarks, walk along the cobblestone streets downtown, and sample authentic Charleston cuisine. Just an hour and a half drive away, a day trip to Charleston would be an epic adventure in the middle of your stay in Pawleys Island.
Why stay in the middle of it all, when you can still experience everything, while vacationing in the family-friendly, tranquil, and charming region known as the South Strand? From exquisite seafood to impressive natural landscapes, to easily-accessible day trips, the Hammock Coast is the perfect beach destination.