Stays that include the following days require a night minimum: Fri, Sat
Sorry, but the dates you selected require a night minimum stay. Please adjust your search and try again.
Where to have Thanksgiving Dinner in Pawleys Island and Litchfield
Litchfield Beach | 11 May 2016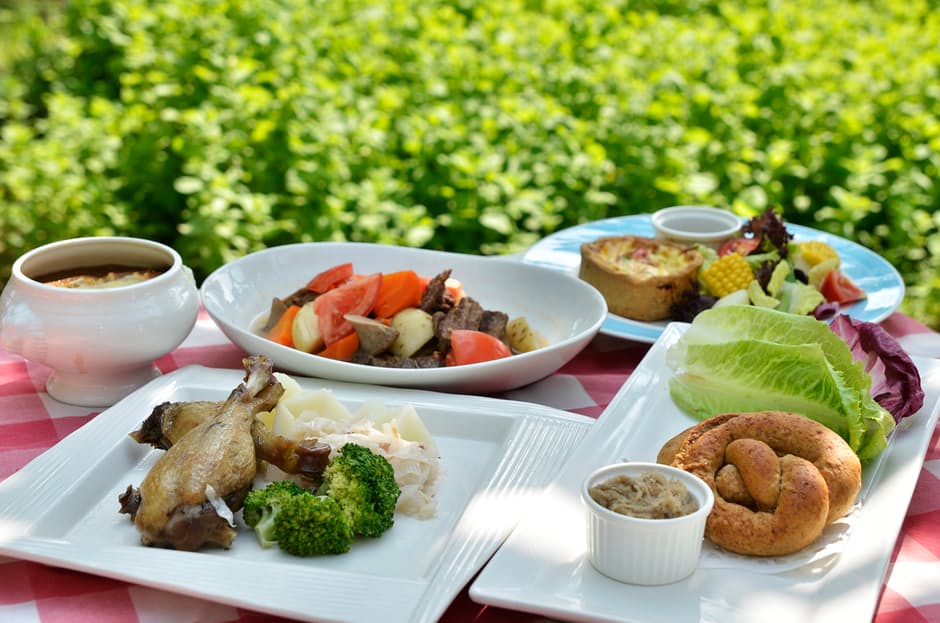 Thanksgiving dinner is as heralded as meals get.
Unless you don't like to cook.
Or are visiting from out of town.
Then Thanksgiving dinner is a bummer, a drag, something you'd prefer not to think about.
Ah, but not on the Grand Strand! Don't forget that southerners are all about hospitality, so when many cities shutter their restaurants on this holiday, we keep doors wide open. While there are considerably fewer restaurants open here in the Litchfield/Pawleys Island area than in, say, greater Myrtle Beach, the ones that are open are so very yummy. And we're talking about strictly turkey-gravy-stuffing fare here. Drive-thru chicken nuggets need not apply.
Here are some great spots where you can gobble-gobble by the beach.
Webster's Lowcountry Grill and Tavern: Ok, we might be a little partial to this one since Webster's is right there on the Litchfield Beach and Golf Resort courtyard, so guests have to travel very, very little to get there (and back, when you're stuffed to the gills and about to collapse in bed). It also happens to be a favorite of ours since the Thanksgiving menu is extensive and so darn good. From noon to 3 p.m., enjoy a salad starter (pick among several, including a yummy-sounding fall apple salad), munch on artisanal breads, and, if turkey's not your thing, head over to the prime rib carving station for a divine cut of meat. But of course they have delicious roasted turkey with pan gravy, too, alongside sweet potatoes, mashed potatoes, macaroni and cheese, green bean casserole, squash casserole, cornbread dressing, and topped off with a seasonal dessert assortment. Adults are $24.95 while kids are $15.95. Make a reservation ASAP.
Austin's Ocean One: Frequent eater-outers on turkey day know this one to be a local mainstay. From 1 p.m. to 7 p.m. enjoy a modified menu from one of the Grand Strand's best restaurants featuring tried and true fan favorites as well as the traditional Thanksgiving options, such as butter-basted turkey, stuffing, yams, veggies and more ordered a la carte. Reservations are strongly recommended, and soon, as tables fill up by mid-month. This is fine dining, so expect to pay close to $30 per person.
Hanser House: This is a bargain-and-a-half when you consider how much food you're getting, how much choice you have, and how little you have to do to fill up. For $16.99 per adult, Hanser House is offering a heaping helping of turkey, ham, cranberry sauce and your choice of three sides and a dessert. Side options include the ubiquitous corn bread dressing with giblet gravy, mashed potatoes and squash casserole, as well as collard greens, potato salad and baby lima beans. Dessert, of course, offers the traditional pumpkin pie, but also a very tempting brownie a la mode in addition to other delights. Extra sides or desserts are only $2.49 a piece and kids meals (turkey or ham, two sides and ice cream) are just $7.99. Meal service begins at 4 p.m.
Nosh: This romantic Pawleys Island fave will offer a traditional turkey dinner (the details are still being ironed out, so check the restaurant's website in early November for their Thanksgiving menu). The standard Nosh menu is chock full of flavorful interpretations of Mediterranean classics, such as the shrimp and andouille pomodoro pasta with fried green tomatoes (dubbed "Steel Magnolias"), as well as prime cuts of steak, lamb and pork — in addition to loooooaaaads of seafood. This is the beach after all. While the Thanksgiving menu has yet to be revealed —again, check back soon!— expect the same level of quality, creativity and deliciousness from their turkey day offerings. Reservations are strongly recommended.
So… what did we forget? Any Litchfield/Pawleys Island spots open on Thanksgiving that we didn't mention? Or, have you dined at any of these places on the holiday before? What did you think?
(Posted: 11/3/14)
(Photo Courtesy: theshoptart.com)